Sony XDCAM-EX3

Sony FX1

Sony A1

Sennheiser Wireless

Manfrotto 501 Tripod

Manfrotto 3066 Tripod

Edit Suite #1

Edit Suite #2






Sony XDCam EX3

The PMW-EX3 compact camcorder with an interchangeable lens system incorporates three ½-inch type Exmor™ Full HD CMOS sensors, each with an effective pixel count of 1920 x 1080, delivering stunning-quality HD images in 1080P, 720P, and 1080i HD resolutions. A rich variety of features for creative shooting are incorporated into this camcorder such as "Slow & Quick Motion", which is also commonly known as "over-cranking" and "under-cranking", selectable gamma curves, slow-shutter, interval recording and Picture Profile™ feature. Additionally, the PMW-EX3 offers a convenient remote-control and multi-camera operation capability, which allows use with high-end camera systems.



Sony FX1

Play and record interlaced high definition video at resolutions up to 1440 x 1080 for professional quality video with vivid colors and striking detail with the Handycam® HDR-FX1. The HDR-FX1 features the real-time HD codec engine, which offers professional-level MPEG2 video compression, and 14bit HD DXP (Digital Extended Processor) for increased processing speed. Images are captured on three chip Advanced HAD™ CCD system that provides increased detail and improved video performance without the color bleeding found in other system. Optical capabilities include a Carl Zeiss® Vario-Sonnar® T* lens with 12x optical zoom and Super SteadyShot® image stabilization.
3-1/3" 16:9 Advanced HAD™ CCD Imagers 1,120K Pixels Gross
Advanced HAD™ (Hole Accumulation Diode) CCD imagers with 1,120K effective (video) pixels provides excellent detail and clarity with exceptional digital video performance. Using a 3 chip Advanced HAD™ CCD system and dichroic prism to separate color information, colors are extremely accurate, and color "bleeding" and "smearing" are greatly reduced.
Advanced HAD™ CCD Technology
Enhanced CCD design allows more light to reach the imager which reduces video noise to improve signal-to-noise ratio by up to 6db (2x better than a standard CCD). Particularly effective when shooting in dark situations.
HDV Recording Format
From the innovators in camcorder technology, Sony's HDR-FX1 camcorder is the world's first HDV1080i consumer level camcorder and player. Now you can record all your memories in true high-definition video.
Switchable HDV/DV Format Recording
The HDR-FX1 is capable of recording and playing back both High Definition and Standard Definition video recorded on standard MiniDV cassettes.
Real-time HD Codec Engine
A Sony developed Real Time MPEG Encode/Decode system with reduced in energy consumption and compact size to fit inside a personal camcorder. Provides efficient MPEG2 compression, and recording and playback of clear HD images at the same bit rate of the DV format, so that High Definition video can be recorded on the same cassettes as are used for MiniDV recording.
12X Optical Carl Zeiss® Vario-Sonnar® T Lens
From the authority in lens technology, the Carl Zeiss® Vario-Sonnar® T lens provides a high quality 12x optical zoom which maintains image clarity and color while reducing glare and flare.
3.5" Wide Precision Hybrid SwivelScreen™ LCD Display3 (250K Pixels)
Provides excellent viewing clarity with improved resolution. The 250K pixel LCD display makes images sharp and detailed during playback or when monitoring recording. The Hybrid Reflective-Transmissive LCD Screen provides accurate viewing in sunlight or bright light, virtually eliminating the "washout" common with traditional LCD Screens.
Super SteadyShot® Optical Stabilization System
An advanced form of Sony's SteadyShot Image Stabilization system that controls an even higher range of shake and vibration frequencies. This optical stabilization system achieves an even higher level of smoothness without degradation of video like some digital stabilization systems.
Analog/Digital Conversion with Pass-Through
Convert and/or record any analog NTSC video source to digital video via the analog inputs. Analog NTSC video can also be passed through the digital Handycam camcorder directly into a PC via the i.LINK®2 interface in real-time for easy PC editing of your analog footage.
Manual Zoom and Manual Focus Ring
Dual independent Zoom and Focus rings provide precise and detailed control over the amount of zoom and the overall focus of the image with just a turn of the rings. Fast, intuitive framing when zooming, and finely detailed focusing is easy with the natural "feel" of the rings.
Expanded Focus Indicator
The camera's LCD image is magnified, temporarily, up to 4X its original size without any loss of distortion. This allows the user more finite control while focusing the camera for greater detail and clarity.
Picture Profile
Allows the user to set manual adjustments for a scene (color, sharpness, white balance, etc) into any one of six presets, so they can be called up at just the touch of a button. Useful when shooting under the same conditions repeatedly, as options do not have to be re-set each time. Settings for various shooting conditions are offered as defaults.
CineFrame™ Recording
Provides the option of recording video at either 30 fps or with a feeling of "film-like" 24 fps.
Assignable Buttons
Three buttons on the exterior of the camcorder are user-assignable so that they can be set to the options most commonly utilized, for ease of recording.
i.LINK®2 DV Interface (IEEE1394)
A high speed bi-directional digital video/audio communication between two compatible devices equipped with an IEEE1394 interface, including camcorders, digital VCRs, and PCs.
Shot Transition
Allows for a smooth automatic scene transition. Settings for focus, zoom, iris, gain, shutter, and white balance can be set to the A/B button and a smooth transition will take place according to the set time. This function enables the focus to gradually shift from the front of the screen to a deeper part of the screen. Thus the iris enables a smooth change of depth of field.

Sony A1

The HVR-A1U is a compact and lightweight handy-type camcorder, ideal for shooting environments that require mobility. Its size, combined with its long battery life (up to 80 minutes of high-definition recording with the included battery), make it easy to get the shots you need, when you need them.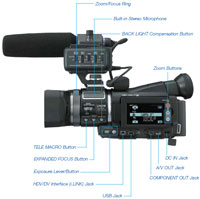 HDV 1080i The HDV 1080i specification features 1080 effective interlaced scanning lines and 1,440 horizontal pixels. Interlaced pictures, which have been common to TV broadcasts from the beginning, alternately display odd and even numbered lines between each screen refresh. The HVR-A1U can also record at the HDV 720p specification, which features 720 effective progressive scanning lines and 1,280 horizontal pixels. Progressive scanning fills both odd and even numbered lines with each refresh, providing a flicker-free picture.
Not yet ready for HD? The HVR-A1U can convert material from 1080i down to 480i and output this digital video signal through its i.LINK interface or as analog signals through component, composite, or S-video connectors. When down-converting these signals, the aspect ratio displayed can be converted from 16:9 to 4:3, and display modes can be selected from squeeze, letterbox or edge crop.
1/3-inch Type, 2.97-megapixel CMOS sensor The HVR-A1U incorporates one 1/3-inch type primary color CMOS (Complementary Metal Oxide Semiconductor) 2.97-megapixel sensor with a formatted for a 4:3 aspect ratio. The advantage of a CMOS sensor over CCD is it's ability to process a large volume of picture data at a very small size, which makes it possible for a camera this size to capture HD video. The trade off for this kind of chip over CCD, however, is a small loss in picture uniformity and dynamic range.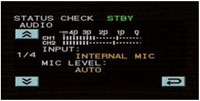 Keep an eye on audio levels on the LCD monitor
Audio The HVR-A1U adopts the MPEG-2 compression format, which uses 8-bit digital component recording with a sampling rate of 4:2:0. The camera uses MPEG-1 Audio Layer II audio compression format, allowing for two-channel recording with a sampling frequency of 48 kHz/16-bit. It features a built-in stereo microphone, as well as two XLR audio input connectors for use with professional-grade microphones or external audio sources. Each input level for CH1 and CH2 can be independently adjusted using two audio level dials on the camera body and viewed with an audio level meter on the LCD monitor.
Carl Zeiss Vario-Sonnar T* 10x optical zoom lens The HVR-A1U is equipped with a Carl Zeiss Vario-Sonnar T* high definition lens with a 10x zoom function. It has the same optical coating as is used on all of the Carl Zeiss prime lenses, which produces sharp, high-contrast images with virtually no chromatic aberration.
In order to facilitate zoom control and recording operation during low-angle shooting, an additional zoom lever has been added to the camera body. There's also a zoom/focus ring located on the lens body that allows for fine adjustments in zoom position. Furthermore, the supplied wireless Remote Commander unit can be used for external control.
Large, 16:9 widescreen color viewfinder and LCD monitor View your subject through the built-in viewfinder, the swing-out LCD display, or both. The HVR-A1U features a 0.44-inch type color LCD viewfinder and a 2.7-inch color LCD monitor, both in a 16:9 aspect ratio. You'll save battery time by using just one, but you may want to use one for adjusting focus and the other for monitoring audio levels. When eschewing auto focus for the fine-tuning manual focus, you can double the magnification at the center of the screen, making it easier to confirm focus settings during manual focusing. Also, the camera's "peaking" function can provide sharp outlines on the monitor to help with manual focus.
Electronic Super SteadyShot system Sony's electronic Super SteadyShot System helps remove the slight hand jitter and vibration that is often the bane of video production--especially during telephoto shots. It does this by trimming off edges of the frame on the fly to counteract movement.


Tele Macro picks up details on subjects from a distance
Tele Macro It may seem like a contradiction in terms, but the Tele Macro function allows you to capture a macro image from a distance, which is useful for shooting small moving objects. Additionally, this function puts your subject in proper focus while leaving the background out of focus.
The Hollywood look The HVR-A1U has features that can make your videos look more like they were shot on film. Cinematone Gamma allows operators to quickly setup and load a gamma curve with similar contrast characteristics to a film gamma curve. The Cineframe feature allows movement to be reproduced at 24 frames per second--the speed of film--as opposed to video's 30 frames per second standard.
No new tape stock The HVR-A1U is compatible with conventional DV tape stock, but Sony recommends the use of DigitalMaster PHDVM-63DM tape, with its dual layer of magnetic material, which delivers higher RF output, lower noise, 95% fewer errors and 60% fewer dropouts compared to regular DV tape.
More camera features

| | | |
| --- | --- | --- |
| ·Assign button -- get quick access to a variety of settings | | ·Time Code Preset -- fill in any timecode starting value |
| ·Shot Transition -- creates smooth automatic transitions between scenes | | ·Color Bar -- Two types |
| ·Status Check -- displays camera setting menus for audio, output signal, assign button and exposure lever functions and hours meter on the LCD monitor | | ·Zebra -- displays a striped pattern in the LCD monitor and viewfinder across highlight areas, helping manual exposure settings |
| ·Quick REC -- shortens the record interval from stop mode. | | ·Personal Menu -- allows operators to customize the setting menu |
| ·Battery Info -- displays the attached battery's current charge level and its current remaining recording time on the LCD monitor | | ·Histogram Indicator -- allows you to easily evaluate the brightness of your scene |
| ·Super Night Shot -- allows operators to capture images in black and white using a built-in infrared light | | ·Skin Tone Detail -- reduces detailed signal for skin color, smoothening the reproduction of human skin |
| ·Black Stretch -- allows more contrast to be seen in dark parts of the picture without affecting mid-tones | | ·Backlight Compensation -- produces natural tones for both light and dark areas of backlit subject |
What's in the box
HVR-A1U camera, AC-L15 AC adaptor, power code, NP-FM50 InfoLithium rechargeable battery pack, lens hood with lens cover, RMT-831 wireless Remote Commander unit, A/V connecting cable with S video, component video cable, USB cable, Memory Stick Duo (16 MB), Memory Stick Duo adaptor, ECM-NV1 monaural electret condenser microphone, XLR audio adaptor, shoulder strap, and operating instructions.

Product Description

The HVR-A1U 1080i HDV camcorder provides real 1080i HD acquisition, with superb image quality and comprehensive functionality for professional use, in a "handy" camcorder form factor. This new HDV camcorder will help to expand the adoption of HDV and lead the entry-level HD market by providing a compact and low cost solution. The new HVR-A1U features a newly developed 1/3-inch C-MOS imager. This new 1920x1080 native imager is also capable of 3 mega-pixel still images. Combined with a high quality Optical Zoom Carl Zeiss Vario-Sonnar T Lens and Sony's new 14 bit A/D and DXP digital Extended Processor, result in precise image acquisition with superb detail and clarity. The new HVR-A1U records this exceptional imagery using the recently adopted HDV 1080i format onto a DVCAM mini cassette.

Sennheiser EW122PG2 Camera Mountable UHF Lavalier Wireless Microphone System,
Body pack Transmitter with ME4 cardioid lavalier and portable Receiver.


1280 user selectable frequencies within a 32 MHz tuning range

4 preset memory locations, which can be reassigned any of the 1280 frequencies within its operational range

Rugged bodypack transmitter

Camera-mountable receiver

High quality ME4 cardioid lavalier microphone


Designed with the industrial user in mind, this fluid head has smooth pan and tilt, will withstand the rigors of location shoots and carry cameras of up to 22 lbs. The head features +90 degree -60 degree tilt with 360 degree smooth pan. The head has a quick release sliding plate with secondary safety catch, two telescopic pan handles and a built-in spirit level.

Mac G5 8core- 10 gigs of RAM
Blackmagic Decklink HD Extreme
Dual Monitors
Surround Sound
Final Cut Suite
Adobe Suite
Blu-Ray Burner


Mac G5 4core- 10 gigs of RAM
30-inch Apple Cinema HD Display
Voice Overs/ Audio Work
Final Cut Suite
Adobe Suite